Four Hands Massage
We present to you, our best and closest friends, professional, quality massage on a warm table with hot stones. His massage program we represent, as a classic intense, or sports massage with elements of Thai or yumeiho - therapy.
In this program our team of massage artists eliminate unnecessary and inefficient massage techniques and strokes. But, in any case, does not attribute soreness and intolerance of four hands massage.

Procedure

:

description

:

duration

cost

Full session (approximate duration)
1 hour 10 minutes.

1400

hryvnia

.
A massage parlor in the center (m. Golden Gate) = reasonable prices without the smallest margins.
Specialist professional massage from 8.00 to 21.30 without days off, especially at your disposal, will hold intensive and sports massage treatments on the warm table with hot stones, which are best suited for office professionals, accountants, programmers and driver.
Your health - in your hands and no one else! Only subject to proper and thorough care for your precious health, then it will repay us many times over. This is all they know from adults to young children - you can not even talk and not to remind. But somehow, quite often it happens all the opposite, and just the opposite. That such is our mind, which often happens to us all, and not an assistant. Therefore, it is often necessary to put him in his place, in the right track. This is achieved by overcoming his laziness and perpetual performing simple rules of hygiene and preventive care for their health. After all, it is our first deputy always humbly endures all of our antics. Let us and we will show him our sincere gratitude and mercy mild.
Therapeutic massage Kiev is just what your body is, my dear, is constantly asking and constantly reminds reflex impairment. After all, as the ancients said, - health movement, and the movement is a massage - and these concepts into its equivalent measure.
The massage is done professionally and efficiently, on the verge of a pleasant pain, relaxation and benefit from the optimal effective power and strength.
We have never engaged in a simple stroking, rubbing and smearing mud on the beams of the patient's body. We present to you, our dear friends and, above all, nothing irreplaceable teachers, deep heats the massage in Kiev, as well as massage, 4 hands. This procedure not only provides space active and passive movements, removes the vertebral area of ​​the upper and lower extremities no utalimye spasms and contractures, improves the functioning of internal organs and systems of the body, but as a result of following the courses of massage and the proper implementation of simple effective exercises individually matched to each patient masseur rehabilitator, offers quite another positive perception of stress and emotional events, and unusual opening of its reserve forces, and intelligence.
I hope that you are well guided in massage technique or procedure heats the massage at home, so we recommend you get a feel for his precious body of our privacy policy is only a pleasant quality from the procedure.
And if someone does not have to feel the full benefit and enjoyment of our therapeutic massage with heating stones Kiev, there is an opportunity to develop a good habit, and thus unite in harmony with your body.
It is not necessary to follow the popular opinion, according to which massage treatments should be carried out for at least twelve sessions per year.
But the implementation of such a program, you can ensure that only a small reserve of health and inner strength needed for your body. Therefore, if we take into account the dynamic and static load and complexity of mechanisms of the nervous system and body as a whole, are welcome desired result will be available soon through continuous maintaining their precious health regular exercise and therapeutic massages, with the right approach, and mode.
Doing a massage four hands at home every week, after a while you will be pleasantly surprised when you compare apativnoe condition of your body before the massazhnіh procedures to fit and serviceable condition after treatment unhindered.
We have identified a small price for such a session of massage, relaxation of the body with the heating special stones that are optimally suited for office workers and technicians, and for drivers who have back pain, neck, shoulders and reached huge compensatory disturbances.
We have developed a program with aktualnіh classical techniques of sports and Thai massage in combination with individual exercises on the compression and extension of a few sessions easily solve this painful problem, without which you yourself have not even imagine.
Competent and experienced our favorite fans represent 4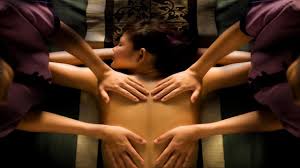 hands massage with warm stones on a table with heating, as well as services attendant to leave for Kiev.
It is also possible departure of the expert to your office, organization, or we can just come home.
You yourself free builder of his life, and hence health and ways to maintain it. Therefore, it is advised to check on her, and then to the relatives and friends and enjoy all of the efficiency of our treatment in the massage room with shower.
Call us at any time convenient for you: MTS (099) 38-770-37; Kyivstar (098) 56-407-76
Massage room is in the center, opposite the Opera House (m. Golden Gate), intersection of Vladimir and Khmelnitsky.