Osteopathy
After detailed postural diagnosis to determine the state of the balance of the entire body, identify muscle-fascial limitations and restriction, the position of organs and joints, I begin treatment of a key disorder from the entire chain of the multilevel pathological link. Therefore, the treatment of patients at my receptions is always individual, depending on the severity and course of the disease, using the skills of structural, cranial and fluid osteopathy.

Osteopathy, posturology:
full

session

duration

c

ost

adults

1 hour



900 UAH (26 $).


baby,

babies
individually from the reaction of the organism
800 UAH (23 $)
Osteopathy (in Greek - bone disease) branch of structural therapy, based on the representation of our body as an integral, autonomous, balanced unit. The main pathological reason for the destruction of structural-anatomical unity and harmony between segments of our body is a decrease in internal resources, an imbalance of the whole organism and a distortion of the administrative commands given by the bark of the cerebral hemispheres. With these violations and restrictions, provided that the key infringement is unmistakably determined, in the numerous pathological chain, I have been successfully fighting for many years in our medical center. Living with the Kiev region with their kids and older children (Ukrainka, Yagotin, Obukhov, Boyarka, Pereyaslav-Khmelnitsky, Boguslav, Belaya Tserkov, Vasilkov, Boryspil, Cherry, Slavutich, Brovary, Bucha, Irpen, Fastov), ​​the treatment procedures are appointed at a certain time, for convenience and comfort of the therapy.
The distinctive features of osteopathic techniques and posturology from the effects of manual therapy are that they are very soft, sparing and aimed (there are no trust manipulations and percussion techniques), but in their turn are not inferior in terms of efficiency and quality. Within a certain time, after the targeted and exact impact on the root cause, the patient's body will adapt and build new priorities, restoring the physiological center of gravity in the right direction. And, regardless of where the therapy was conducted, in the clinic or at home Kiev, the pain should decrease, or completely disappear, there will be relaxation, inner peace and harmony, the body will get rid of fixed strains and pathological inertia, gain freedom of movement and symmetrical expansion.
I apply osteopathy Kiev for adult children (babies) with:
Osteochondrosis, scoliosis, kyphosis (rib protrusions), osteoarthritis, intervertebral hernial protrusions, internal organs shift, inflammation of rootlets of spinal nerves.
Disorders of the cardiovascular system (vegetative-vascular dystonia, ischemic heart disease, hypertonic and hypotonic disease, etc.).
Endocrine and metabolic diseases (alimentary obesity, gout, cholelithiasis and urolithiasis, thyroid disease). Nervous, emotional and mental illnesses (meningitis, neuroses, asthenovegetative syndrome, radiculitis, migraine).
Bruises, trauma, sprains, dislocation, postoperative rehabilitation.
Cerebral palsy (cerebral palsy), Down syndrome.
Generic, embryonic injuries and various child disorders.
I also teach osteopathy individually: localized diagnostics and fluid testing, targeted treatment and correction, individually selected exact techniques, etc. On the huge effectiveness and effectiveness of osteopathic treatment at home, like acupuncture massage, with liver and gall bladder diseases , violations of the kidneys, spleen, including the musculoskeletal system, indicate the famous German, French and English professors, as well as other doctors of medicine Agricultural Sciences.
In my sessions, you will restore the correct position of the bone structures, the work of the internal organs and joints, improve the perception of information, memory, increase confidence in your lost strengths and mental abilities. At the same time, aging gradually slows down and the processes of rejuvenation on the nervous, mental and physical levels are activated. Also, in case of difficult clinical situations, I can call the doctor home!
I also advise adults, children (infants) in the Kiev clinic, I successfully treat fluid sprays with such techniques as intervertebral hernia, spinal curvature, osteochondrosis, various arthritis and arthrosis, and the pelvic girdle.
I pay special attention to work with the cranial region, sacrum, restoration of lymph flow, but at the initial stage I always conduct detailed diagnostics to find the key problem, after elimination of which, most minor restriction fades, or their severity decreases. In addition, as an osteopathic physician in Kiev, I effectively apply stray-counterstrain primaries, polar and wave stimulation, Steele techniques, bioresonance manipulations. All these osteopathic directions have a good clinical restorative, reflex effect, and are in no way inferior to high-speed percussion techniques, which we are constantly trying to treat.
Indirect functional impact, as in the medical center, so when leaving the house Kiev, I remove the violation of the functions of joints and bones, internal systems and organs, venous and lymphatic stagnation. As a result, the work and condition of all organs and systems, the symmetrical position of the bone (tissue) structures are restored absolutely correctly at the mental and physiological level, the mood, soul harmony, the human body is completely normal without use, or with partial use in significantly smaller doses, of medical preparations and their analogues. Osteopathic rehabilitation of children with Down syndrome and cerebral palsy (cerebral palsy) has been successfully and gradually performed. Also for pupils from the Kiev region (Irpen, Pereyaslav-Khmelnitsky, White Church, Brovary, Bucha, Slavutich, Ukrainka, Fastov, Vasilkov, Borispol, Vyshneve, Obukhov, Boyarka, Boguslav, Yagotin), who underwent a basic program of training in osteopathy, more in-depth levels of study.
It should be reminded once again that posturology and osteopathic massage in clinic Kiev differs from high-speed low-amplitude and shock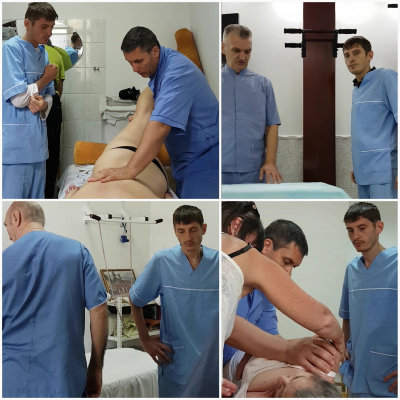 therapy by a more comfortable and pleasant effect, so that the patient can even fall asleep during the procedure. The effectiveness and quality of such treatment, conducted both at home and in the medical center, is evaluated depending on the patient's constitutional characteristics, his psychological mood, and the period of the course and nature of the disease. In practice, this direction represents a complex of manual methods of diagnostic and therapeutic effects, which are based on the unerring determination by the doctor of the osteopath of various pathological changes in our body and competent removal of them.
For admission for posturology, osteopathic treatment and consultation, sign up at any time from 8-00 to 20-30, if possible, inform the desired time in advance how to proceed!
Call - and I with great responsibility and professionalism will treat you constantly sick of ailment!