Osteopathy Chernivtsi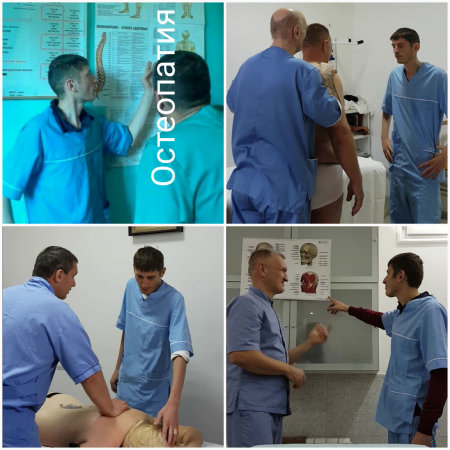 Lysak Dmitry Petrovich, - a highly qualified physician kinesiotherapist, an osteopath and a visceral therapist. Treatment therapy begins with finding a meaningful root cause, which is the source and gives the development of the disease. It is very important for a doctor to an osteopath, a manual or craniosacral therapist to learn to listen to the patient's body, respond to its subtle manifestations and establish a trusting relationship with the system. Then the patient's nervous system will be able to open freely to the treating doctor and fearlessly, as a native mother, to show the full picture of the global lesion and all the pathological links spreading from it to the whole organism.
Treatment in Chernivtsi

:

Full Session

Duration

Cost

adult patients

1 hour

1400 UAH.

babies, newborns

individual approach

1300

UAH

.
Treatment of patients I spend manual, osteopathic and kinesiological methods in MedTsentr at the address: Chernivtsi, ul. Home 124. Group and individual training of soft-tissue osteopathic, biodynamic, craniosacral and kinesiological methods are also conducted. Recording for admission and training, if possible, is preliminary, as the main part of healing therapy I spend in our capital. In special cases and the complexity of the picture of the disease, you can go to your house in Chernivtsi.
The main procedures and techniques that I use in the treatment of patients:
Osteopathy
Craniosacral Therapy
Kinesiology and Psycho-Kinesitherapy
Myofascial release
Visceral therapy
Manual therapy
Children's massage, osteopathy newborn
In certain cases, or for symptomatic compulsion, I conduct such additional procedures:
Lymphatic drainage massage
Acupressure, Shiatsu
Craniosacral Biodynamics and Bioenergetics
Yumeiho-therapy
Massotherapy
Profession kinesitherapist, biodynamic or osteopath suggests greater sensitivity, perception, professional intuition and sincere love for his healing work and patient.There must also be a lot of patience, indulgence, full payback to a single call, a propensity to professional treatment by hands combined with a clear memory and sacrificing all free time to learn new knowledge and experience. Only in accordance with this approach, the treatment procedure will be effective and useful for you, residents of the Chernivtsi region: Novodnestrovska, Hertz, Novoselitsa, Storozhinets, Vashkovtsi, Vyzhnitsa, Zastavna, Kitsman, Khotyn and Kolomyya, Yaremche, Zaleshchiki.
We need a confidential contact of a doctor (a kinesiologist at Chernivtsi's home or a visceral therapist) with the system of a person who came to the reception. Then the patient's inner wisdom will be easily revealed to the doctor by the kinesiotherapist and unconcernedly leads to the true link of the key violation. After all, this defeat makes the body center around itself and twists the tissue and bone structures into the affected area. As a result, pathological patterns appear that build the body around the displaced midline, the body begins to develop and update into the asymmetry zone, and incorrect physiological priorities are formed.
Such non-centered patterns gradually introduce the system into the field of oppression, disharmony and depressive states. This, in turn, forces the osteopath of biodynamics, or the craniosacral therapist at home, to conduct competent diagnosis and treatment of key dysfunction affecting the whole body, to work on it extremely accurately and purposefully. And most importantly, always be wiser and above the global disturbance that causes the body to always remain in forced patterns of slavery!
In my competence, as a doctor of the osteopath, a kineziologist and biodynamics, there are such diseases:
intervertebral hernia, protrusion, osteochondrosis;
lordosis, kyphosis, occlusion, various curvature of posture and spine disease;
headaches, migraines, dizziness, loss of consciousness;
post-traumatic rehabilitation, recovery and further prevention;
diseases of internal organs, various variants of their displacement and twisting;
diseases of the respiratory, digestive, cardiovascular and endocrine systems;
humeroscapular periarthritis and periathrosis, various neurologic manifestations of pain syndromes;
violation of innervation of the passage of lymph, cerebrospinal fluid and blood supply to organs;
aching pains and limitation of mobility of the back, neck, hip joints and lower limbs;
violations of the functionality of the male and female sexual sphere, various inflammatory and allergic processes;
depressive, neurological, psychoemotional injuries and conditions;
pathologies emanating from embryonic, intrauterine and postnatal development;
children's diseases, underdevelopment, dementia.
In the osteopath and kinesitherapist, there must be a great humanity, responsibility and self-confidence, since one wrong and insecure action can be very costly for the patient and his relatives.
On the etiologic statement of visceral, cranial and kinezotherapists, - an osteopath or manual therapist at the home of Chernivtsi, there must be specialists, with special education and long training.
A doctor osteopath, a biodynamic or manual therapist is forced not only to understand physiology, anatomy and have a sufficient sense of palpation and perception, but also to know the methods of competent diagnosis and treatment, professional reading of radiographs, and many other things. And then, after passing such a highly qualified medical therapy, the patient's joyful and sincere words, filled with a feeling of sincere gratitude, will become for this true doctor the best and irreplaceable reward, consolation Craniosacral therapy in Chernovtsy motivated by the impetus to further improvement.
In the city of Chernivtsi, in addition to examining patients, I teach on manual and visceral therapies, soft tissue osteopathic and biodynamic techniques, craniosacral therapy and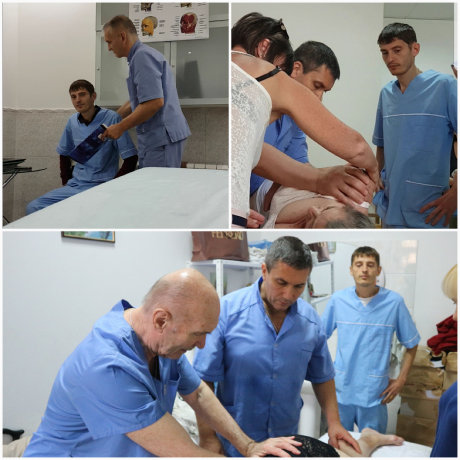 kinesiology. Also, under certain conditions and the complexity of the course of the disease, it is possible to travel to the house in Chernivtsi!
Preliminary record for the treatment session - at the phone indicated in the contacts. In the city of Chernivtsi stay periodically, because I lead treatment in our capital. Therefore, if you are located near from the capital, - I invite you to the professional cranial, Yumeiho and Kinesio- Therapy with highly sensitive palpatory diagnostics by definition of a meaningful violation!

Call and sign up for medical therapy from 8:00 to 21:00, - I will treat your violation with the greatest earnestness and sincerity, and try to eliminate it without any consequences in the shortest possible time!