Massage Therapy shostka
To study in detail the structure of the genesis of diseases and related pathology, I, as a professional osteopath and massage therapist, rehabilitator, set itself the following tasks: traction and correction of the spine, improving metabolic function in bone tissue, formation of muscular system, stabilizing ligamentous functions. But the main and crucial in the treatment of any disease still remains a competent search and notebook Edit the root causes of dysfunction, which is subject to the secondary restriction (violation) and related compensatory pain syndromes disappear.

Medical reception:

description

duration

cost

Full session (adult)

Children welcome

1 hour

depending on the individual response

900 hryvnia

800 hryvnia
He decided their precarious, subject to the right (in the context of the body) to eliminate a key restriction: to develop and effectively implement the system streychingovyh exercises (stretching), traction, traction drives correction based on biomechanics and biodynamics, - borrowed from yoga, acrobatic exercises and ballet . A soft tissue osteopathic treatment techniques and different methods of impact on certain segments of the spine and body structure, taking into account that the lost functions and systems of the body are reduced gradually - mastered constantly studying with renowned and experienced doctors and chiropractors otepatov: Sambir V., Smirnov A., R. Gilchrist, Michael Kern.
And, like all the others who have been their way of life from disease to a healthy state, and try to strive to help people osteopathy, visceral and manual therapy, and kinesiology in Kiev in Kiev, and in Shostka.
Book massage treatments in Shostka:
Manual massage
Osteopathy, biodynamics
Visceral chiropractic (in Ogulovu)
Healing (The classic) massage
Lymphatic drainage massage
Thai (yumeiho) massage
Spot (acupuncture) massage
Cupping, honey massage
Anticellulite massage
K

inesiology

Baby massage
It is also possible to study manual, visceral, yumeicho therapy and osteopathy for those who wish not only from Shostka, but also from such cities as Chernigov, Novgorod-Seversky, Sumy, Glukhov, Krolevets, Konotop, Yampol, Putivl!Anyone can order and buy a special medical literature in the relevant areas. So you will be able to explore current topics and directions given by medical disciplines described in detail and is available in these books. And easily, without hesitation or compunction, to choose a suitable and acceptable procedure to which you are most lean and able to master!
People come to me with problems and diseases:
musculoskeletal system: pathological condition with spondilohondrozah, pain in the cervical and lumbar spine;
chronic rheumatic spinal condition, kyphoscoliosis, low back pain;
violations after sprains and fractures, postoperative vostanovlenie;
plexitis brachial neuritis and various;
treatment of functional closures (due to the tendency to relapse);
sacral disease, disease in the pelvis, deforming arthritis, arthritis, limb edema;
diseases and chest deformity, heart disease, angina pectoris, tachycardia;
difficulty in breathing, bronchitis, pneumonia residual effects;
pain conditions of gastric ulcer and duodenal ulcer;
gallbladder disease, liver and kidney;
peripheral arterial disease, poor circulation, vascular disease and veins, pain in the head, migraine;
Birth, embryonic trauma in children (babies) and adults.
In the city of Shostka I am not constantly, because I conduct reception in other city, therefore I ask to be registered on reception in advance (especially it is sick from cities of Chernigov, Novgorod-Seversky, Sumy, Glukhov, Krolevets, Konotop, Yampol, Putivl), having called on the above-stated number of phone. In some cases, you can go to your house or office!
Payment for medical procedures, to his native city, without any extra charge and much less than the cost of the same procedure carried out by me for the massage or osteopathy in Kiev. After all, for me, the main result and your precious mental and physical health, not the number of transient wealth!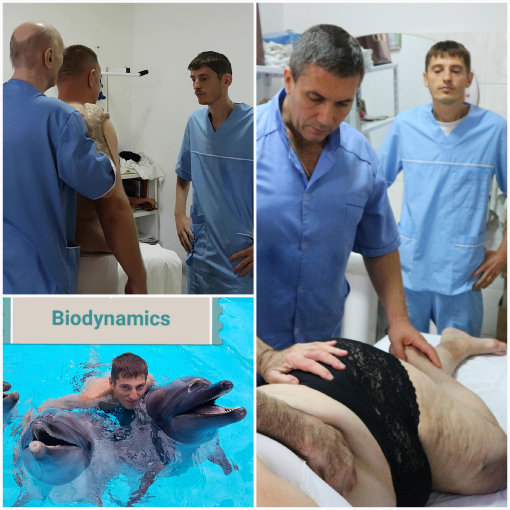 If you are constantly suffering from chronic pain and depressive acute conditions, and you have a firm intention to get rid of it, or significantly expand and improve the quality of life for yourself or your baby, contact at any time, preferably in advance, and I, when I'm finished taking it in another city , I will definitely fly to you in Shostka.
Before making an appointment, I ask you to try to find out in such treatment methods as osteopathy and a biodynamist (not to be confused with a bioenergy therapist), so as not to interfere with the treatment session with wondering questions about this medical field.
The quality and effectiveness of osteopathic, visceral and massage sessions in the city of Shostka will always pleasantly surprise you!
Call the above phone number, and I will answer you in the shortest possible time, giving a reasonable consultation on the disease and the possible method of treatment!